Premium Cuts.

Just in time for BBQ season!

Quality Product. Quality Service.

Our knowledgable staff are always ready to help.

Variety and Spice.

Preserves and garnishes that pair perfectly with any meat.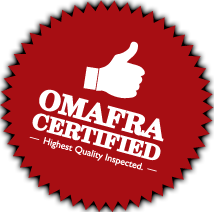 Quality and Tradition
For over 60 years Tarini's has been a household name in Sudbury, Ontario. Currently in it's second generation of ownership, the Tarini Brothers uphold a strong tradition that has made their name synonymous with quality and unparalleled customer service. Renowned for their world famous porketta, Tarini's offers a variety of top qualilty cuts of meat from pork and beef, to fish and fowl. Whether it's dinner for family, or a custom prepared catch, you know it's going to be prepared just right.
Fresh off the Block
We're working hard to bring you the best meat on the market at great value.
Check out some of these specials going on now at Tarini Bros.:
Ground Chicken:

$3.99/lbs

Bone Broth (chicken & Beef

$6.00/L

Prime Rib Roast

$13.99/LB

Fresh Halibut:

$25.99/LB

Porketta Roast:

$6.39/LB

Fresh Atlantic Salmon:

$15.99